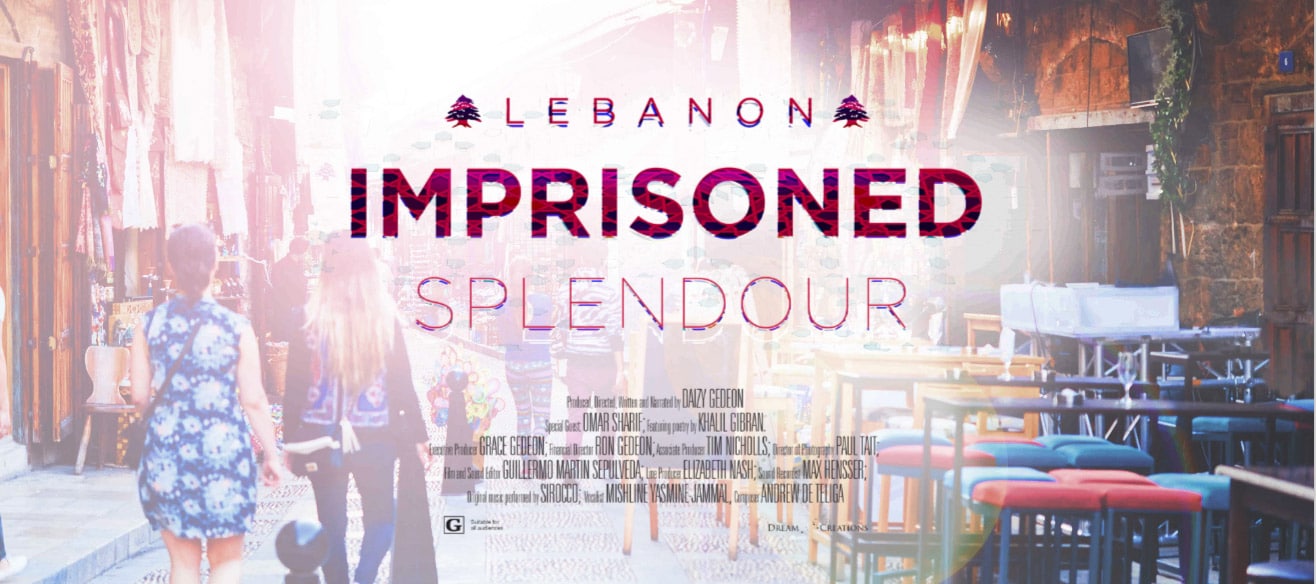 Why I had to make this film
- Daizy Gedeon
---
AT the age of 23 I fell in love. So deep and all-consuming was the feeling, that it was impossible for me not to fall deeper and deeper into the majesty and deliciousness that this new love promised.

So hungry was my desire for more and more and more that I spent the next 10 years immersed in that love affair, absorbing and willingly embracing the battles and challenges, along with the delights and joys that love always presents, until a calm of unconditional certainty spread throughout my entire being, and I knew...I just knew - this love would be forever…

My lover was not a person, but in fact a country - LEBANON. It was the country of my birth but had been forced to leave at the age of 5. When I returned, some 18 years later, it was not because I had a burning desire to, but rather because my mother told me I "HAD TO". I was returning from a holiday to Europe, to the only homeland I had identified with up to that time - Australia.

What was supposed to be a quick two-week sojourn to meet the "relatives", turned into a life-changing, six-week adventure that would alter the course of my life forever...

I was 10 when the civil war broke out in Beirut. Up to then, I hadn't really heard much about that country except when my parents would tell us stories about growing up in the villages and speak of unfamiliar aunts, uncles and scores of cousins. After April 13, 1975, Lebanon was almost a daily fixture in the news, you couldn't escape it. There was nothing good that was being reported, in fact, it was horrible, frightening, almost barbaric but mostly sad and devastating. Very much like the reports coming out of Syria today.

So, when at 23 I was forced to visit, what could be best described as "hell on earth", you could imagine my reservations and hesitations. But Mum said it was ok and I loved my mum so much that I just had to go for her, if not for me.

Flying in from Paris, the plane travelled down the coast of the French Riviera along the Mediterranean. When the pilot announced that we were now flying past Lebanon, I turned my head to look out the window to get a gauge of what I was in for.
'A remarkable & brilliant documentary' - The Australian Newspaper
---
To my absolute surprise, what I saw was nothing short of breath-taking beauty. From a distance the mountains stood high and proud, strong and dominant...below them were rolling hills pocketed with small homes surrounded by a forest of green...and even lower were narrow, sprawling, coastline villages with a shoreline being gently massaged by the calm, turquoise waters of the Mediterranean Sea. I honestly thought I was back at the Cote d'Azur.

I didn't realise it then, but my love affair had begun...

Although the beauty that framed the country from the safety and distance of the plane was real, the reality on the ground was something else. Over the next month and a half, I travelled to all corners of the tiny 10,452sqm country, up hills and down dales; through zouks or souks; from the Frontline to the Greenline; through checkpoints and checkouts; sipping Ahhweh (coffee) to sculling Arak (national drink); witnessed the poverty and inhumanity in the Palestinian refugee camps, and spied on the actions of the occupying Syrian Army troops; I ate the most delicious Kibbeh Neh and Mahnoosh I had ever experienced in my life – (sorry Mum – the Hogget is so much fresher in Lebanon – they kill it right in front of you ;) ). I walked through the serenity of the ancient Cedar tree groves and felt their biblical beginnings; I danced the night away carefree and un-daunted by the bombings and the war that raged only kilometres away; I witnessed the resilience and determination of the people never to give up, their "F… You! – You can't beat me" defiance to the myriad of external armies that had taken up residence in their capital city, once described as the "Paris of the Middle East" and were slowly, piece by piece dismantling and pulling apart the very vestiges of a magnificent history that the natives refused to let go of.

I was so enthralled, excited, moved, enriched, challenged, and disgusted by what I witnessed and experienced that I was compelled to do something about it the only way I knew how – by telling their/Lebanon's story.

So, I wrote my first film – Lebanon…Imprisoned Splendour.
---
Through that passage to tell the world the full and unedited version, I discovered so much more…I discovered me. My origins, my heritage, my culture, why I fight for what is right, why I want to know and tell the truth, why I believe everyone's story must be told through their eyes and voice, why I never give up, I just find a different way, why my life is blessed and interesting and ever-changing – and most profoundly, I discovered my own identity…where I belong, Australia or Lebanon? Who I am – Australian or Lebanese?

Out of the generosity of his heart and because of his deep love for Lebanon, Omar Sharif, one of the 20th Century's global cinematic giants, joined me on that first journey as my co-presenter. Omar provided a unique dimension to the documentary by sharing some extraordinarily, personal tales about his Lebanon. What together Omar and I, brought global awareness to, through Lebanon…Imprisoned Splendour, was an insight that shifted the minds, hearts, and attitudes of people all over the world towards Lebanon and the Lebanese… but more importantly provided a sound base from which so many could start to rethink the Middle East. Sadly, Omar will not join us for this second excursion into Lebanon as he passed away in July 2015 at the age of 83, but his legend lives on…

I hope you'll take an hour out of your life and join me and Omar and maybe discover your own identity. Whether you are Christian, Jew, Muslim or Buddhist, Indian, Somali, American, or Slovenian, Italian, Australian, Colombian or Irish, this is a story for all races, colours and creeds because our identity is not always linked to a nation, it might be a way of life or a simple song that resonates with our soul and connects us to who we really are. Enjoy the journey and please tell me what you think of my story by posting on any of my social media handles.

Thank you and resolve now to live a life with purpose…

Sincerely

Daizy Gedeon
Synopsis for original Documentary:
The Imprisoned Splendour that is Lebanon, manifests itself on many different levels. Its unique religious and cultural dichotomies, its geographical and historical position in global events and its future role in a volatile and turbulent Middle East.

The Film will show Lebanon's natural beauty and location within the heart of the Middle East and the spirit of hospitality and generosity of its people which serve to create an oasis that is the Lebanese people's international legacy.

The Film will examine the strong family unit, an endemic feature of Lebanese society, which has proved to be a biding and empowering force in a nation devastated by war.

The pervading themes of the Film will be emphasised by drawing upon the principles of the great Lebanese poet, writer and philosopher – Kahlil Gibran – one of Lebanon's greatest National Treasures.

We will examine, through interviews with Key figures, the issues that are deep-seated within an historical, cultural and religious context and which form the basis of fundamental differences that underly Lebanon today.

We will seek to discover whether the emotional scars of the war can ever be healed, and at what cost.

By unlocking these issues, we will seek to release the "Imprisoned Splendour" that is a stepping stone to harmony within… Lebanon.